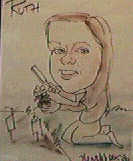 The hands of the stitcher - at work.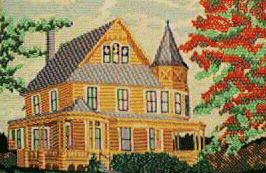 A Victorian House, in Factoryville, PA, on the campus of Keystone Junior College. We photographed and manually charted the design. Ruth hand painted the canvas, and stitched the work, employing various types of stitches - besides the usual tent, or continental stitch. This took second place in the Harford Fair (Harford, PA) in 1988.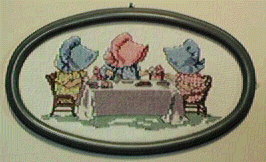 Sun Bonnet babies done on 14-count Aida cloth, in counted cross stitch (from a published chart). A reminder of our three daughters.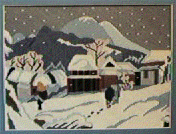 This oriental snow scene was done over many years, being put aside for several long intervals. It is needlepointed with Persian wool yarn in very fine stitches, approximately 18 stitches to the inch. A friend gave this project to Ruth when her eyesight was failing. Ruth always remembers Nancy when she looks at it. (finished size: 15" x 11")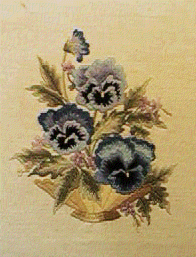 These pansies were done in crewel on linen with wool yarns. One of Ruth's oldest pieces, completed more than twenty years ago.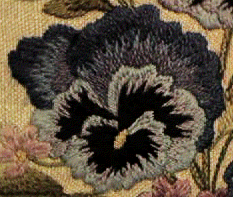 A detail of the pansies. These flowers bloom throughout the year, even in the bitterest Northeast winter snows.
More Recent Projects
This ambitious project (see the "Hands of the Stitcher at work", above) was done from a charted design by Marilyn Leavitt Imblum. It is counted cross stitch on natural Irish linen using DMC embroidery floss. Although the chart was of an angel, Ruth's version does not have wings, but was modified to be a lady in Victorian-style dress.
Honey Bee sampler
Alphabet Sampler
Floral Sampler